24 November 2022
9 Reasons to use Access Credit Union for a Home Loan
Buying a home can be one of the more stressful times in a person's life. When you've finally found the home of your dreams (or at least one that you might have some chance of affording), your thoughts will quickly turn to where you can source the funds to buy it.
Like many people across Ireland, you may have built up your deposit by saving in your local Credit Union. You'll now be happy to hear that we also offer Home Loans to our members.
So why should you choose an Access Credit Union Home Loan instead of a mortgage from a bank?
Here are 9 reasons why a mortgage from your credit union might be the right option for you.
1. You'll be dealing with a cooperative based in your community which you know and trust.
Credit unions constantly go above and beyond for their members. Irish credit unions hold a world record for customer (or member) experience! They have been ranked the number one organisation for customer experience in the CXi Ireland Customer Experience study for seven consecutive years.
2. Your CU will see you for you!
When you apply for our Home Loan, you will be treated as an individual, and your Home Loan advisor will take the time to understand your particular circumstances; in short, your Credit Union will look after you!
While every financial institution in Ireland must adhere to the Central Bank mortgage measures regarding the loan-to-income (LTI) and loan-to-value (LTV) limits, all too often, there are circumstances about an individual mortgage application which aren't black-and-white. Perhaps someone had a dip in their income due to Covid-19? Maybe a credit card wasn't cleared on time in a particular month!
When you deal with us, a member of staff will take the time to listen to you. They will endeavour to support you at every stage of the Home Loan process and help you towards getting a positive outcome.
3. A Home Loan Decision Made at Local Level
Your Home Loan decision will be made at the local level, not in some remote banking headquarters. You'll be dealing with people who understand the local area and the challenges faced by local people. In most cases, Credit Unions are happy to accept applications for small mortgages, something your not-so-local bank may not be as happy to entertain.
4. You can deal directly with the Credit Union
You can deal directly with us, rather than going through an intermediary. Credit Unions don't generally use the services of mortgage brokers. Instead, they focus on promoting Home Loans directly to our members.
When you apply for a Home Loan, you'll be dealing directly with a loan officer who is motivated to make the process as straightforward and stress-free as possible.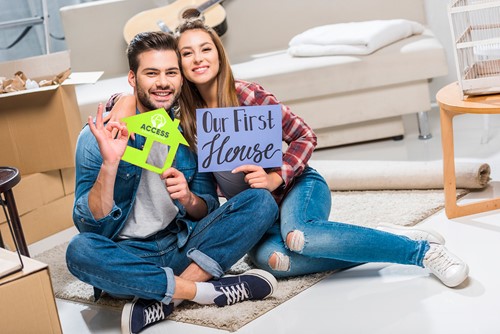 5, You'll be Supporting Local
If you choose a Credit Union for your Home Loan, you'll be helping to break the stranglehold which Irish banks have on the mortgage market. In recent weeks, the Irish League of Credit Union has been running an #unlockthepotential campaign to highlight that restrictive lending rules limit credit unions to just 3% of the mortgage market. In comparison, Ireland's three-pillar banks share 70% of the mortgage market, with the remainder primarily held by KBC and Ulster Bank, which are exiting the market.
By choosing your local credit union for your Home Loan, not alone will you reap the benefits of the exceptional member service that credit unions provide. But you'll also give your business to a not-for-profit community-based institution motivated to help you.
6. No Vultures!
Credit Unions don't sell their Home Loans to so-called vulture funds. Enough said.
7. Straight Forward, Competitive Rates
Credit unions offer straightforward, competitive rates, which are set at a local level. They won't try to hoodwink you with an 'introductory' offer or try to win your business with a view to ramping up the rate charged in subsequent years. They'll give you a clear picture of your total repayments over the term of the Home Loan, and highlight how any changes in interest rate may impact these repayments.
8. Imagine More from your Local Credit Union
Your Credit Union can now help you with most or all of your financial needs. This reduces the likelihood of you having to go to a bank for other financial services.
As well as Home Loans, many credit unions now offer a full range of banking services. More than two million Credit Unions members now have access to a current account; many credit unions now offer business lending, loans for home energy upgrades and financial planning support. In addition, credit unions have digitised their services, with more and more now facilitating members to carry out their financial needs without having to visit a credit union branch.
9. You're a part owner of the Credit Union
You'll be dealing with a financial institution that, as a member, you own and one ready to help you with your financial needs through all life stages.
Whether you're buying (or building) your first home, trading up (or down), or thinking about switching your mortgage, your local Credit Union is here to help.
Find out more about our Home Loan here
Back to News